Hero's Hour
A downloadable game for Windows

Hero's Hour v 2.0 has now landed on Steam, GoG and of course, here where it all started, on itch.io.
Hero's Hour is an accessible, yet-deep and content-rich Strategy Roleplaying Game. Take control of your hero, explore the world, build up your town, fight fast-paced battles, level up your hero and amass an army large enough to take out the opponents - before they take you out.

Turn Based + Real Time
While exploring the overworld and developing your town and army are both turn-based, giving you time to think and plan out your next moves, in battles your units will do the best to fight for themselves in real time - all hundreds of them. Cast spells and give attack orders to swing the tide of battle - or just sit back and watch as your might unfolds.

Procedural Generation
Hero's Hour brings impactful procedural generation to the strategy game formula, ensuring that every time you play, there will be new areas to explore and strange buildings to enhance your hero or army. Seek out obelisks to start you on small procedural quests that send you around the world. You won't even be able to use the same build order each time you play the same faction.

Features
12 factions with special mechanics, strengths and weaknesses
24 hero classes, with a special skill each
46 common hero skills
301 units - 200 without counting upgrades
100 unique unit abilities
145 artifacts
81 spells & abilities
Dozens of impactful map buildings
Local "hotseat" multiplayer
Co-op with other players or even with the AI
There's a lot of stuff in this little game!

Being on the faster side compared to other turn based strategy games, you may even be able to finish the hotseat games that you start!
You can follow the development of the game on twitter.
A lot of the graphics are by iknowkingrabbit.itch.io/, the rest by me, KraftKraken or Krisys . Music and sound is currently being remastered by Lautaro Ariño, but there's some by me and Tundralaks left.
There's still bugs around, and if you manage to catch one, or one catches you, do get in contact at thingonitsown@gmail.com with a description of the bug. Here post v 2.0, I'm planning on updates on a weekly basis until bugs are ironed out.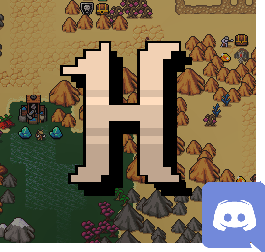 Join us at discord: https://discord.gg/9zpWsA24uk

Steam keys are now available for those who have bought the game on itch! Simply go to your purchase page and click the steam key redeem button.
The newest update is v2.2.3, which expands custom content, adds Special Weeks and a new artifact set. Check out the development log for v2.1.0 here.
Purchase
In order to download this game you must purchase it at or above the minimum price of $18 USD. Your purchase comes with a Steam key. You will get access to the following files:
Hero's Hour - v2.2.3 (Premium)
142 MB
Download demo