Hero's Hour
Hero's Hour v03 (now v032)
---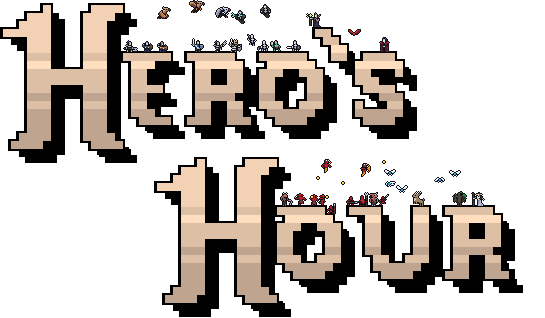 Just a week after release of v01, here comes v03 - bringing lots of cool new features and tweaks.



NEW FEATURES:
Updated town sprites, which evolve as your town grows

Each evolution grants town perks, granting unique benefits to change up your playstyle
Added 21 town perks

Blacksmith town building

Ballista, which fires splashy projectiles
First aid tent, which resurrects some of your fallen creatures
Two new hero skills:

Engineering, improving ballista and first aid tent
Plunder, which gives gold for defeating armies

7 unique new adventure objects

Chapel: Visiting the Chapel allows the hero to repair it to gain a permanent morale bonus
Arcane Cloister: Visiting the Arcane Cloister allows the hero to construct Golems using gold and mana
Arena: Visiting the Arena allows the hero to fight against a worthy opponent for experience
Crucible: Visiting the Crucible allows the hero to summon demons using sulphur and mana
Hunter's Outpost: Visiting the Hunter's Outpost allows the hero to recruit a mercenary army
Brilliant Orb: Visiting the Brilliant Orb allows the hero to meditate, turning mana into a permanent bonus to spellpower and/or knowledge
Fort: Visiting the Fort allows the hero to sell part of their army
Mercenary Camp: Visiting the Mercenary Camp gives the hero a permanent bonus to attack or defense
more to come!

Tooltips for all buildings
Pausing the battle while casting spells
Improved spell cooldown visuals
Fortress has been fully implemented, but is still unplayable

Unless you pay more than 1 cents and message me to ask me how to play ;)
TWEAKS:
Fixes to map generation
AI improvement
Every single creature has been rebalanced
Slightly smaller hero movement range
Experience gain from large battles slightly decreased
An extra Dwelling, giving you weekly Sprites for defeating a small rampart army
Tweaked spell cooldowns
Small fixes to playing at different resolutions
Every single interface has been graphically improved
Battle unit AI has been improved slightly
Game no longer forgets you've built a marketplace when reloading
If you manage to find a lingering bug, please do write me here or on twitter so I can get it fixed. If you don't find any bugs, you should still write me, tell me your thoughts and what v04 should bring!
VERSION 031:

Two more unique adventure objects:

Visiting the Training Grounds allows the hero to evolve creatures in the army for a cost
Visiting the Sigil Stone allows the hero to spend resources to gain a magical skill

Fixed a bug that would allow you to gain infinite attack at the mercenary camp
Fixed a bug that could crash the game at the main menu
Fixed a bug that could crash the game when emptying a regiment into a town
VERSION 032:

Updated town screen with higher clarity
Better feedback, selecting a building before buying it
Building tooltips state what player they are controlled by
Claiming a building will show a small message
Fixing being able to cast spells when getting attacked
Unupgraded dwellings now have different colour in town build grid
Fixes to zooming
Small upgrade to Enemy Turn GUI
Much more xp from combat, and more gold from plundering
Less random unit deployment in battles
Fixed a potential crash in several adventure objects
Fixed being able to drag units out of the infirmary

That's not how it's supposed to work
Units tick over from the infirmary to normal dwellings over time

Rearranged hero UI

Spellbook button opening up a biiiig spellbook

Showing mana and max mana

New spellbook allowing pageturning, easier to read and spells sorted by power
Artifacts show an overworld message when picked up
Overworld messages are bigger and stick around for longer
Major and Ultimate artifacts are now more rare
Fixed all elementals showing the wrong sprite in battle
Improved treasure chest UI
Temporary fix to a common crash bug related to save loading and strange circumstances
Files
Hero's Hour v.031.zip
3 MB
Feb 14, 2021