Hero's Hour
Hero's Hour v.1.2 and 6 months on Itch io
---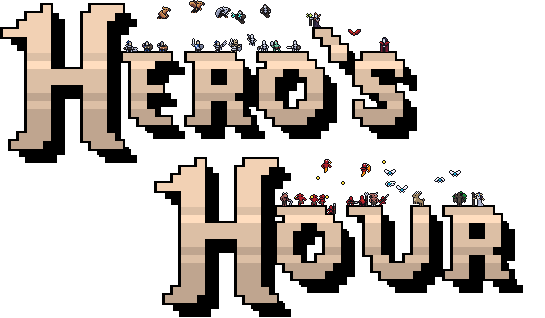 Hero's Hour v.1.2 is now live! There's a new faction and two technical map editors - the two map editors will continue to be improved until the next update at least. But the new faction is pretty cool and I didn't want to keep it from you. And there's also a new anniversary to celebrate - 6 months on itch.io. For this reason, Hero's Hour is on 50% sale for the next week.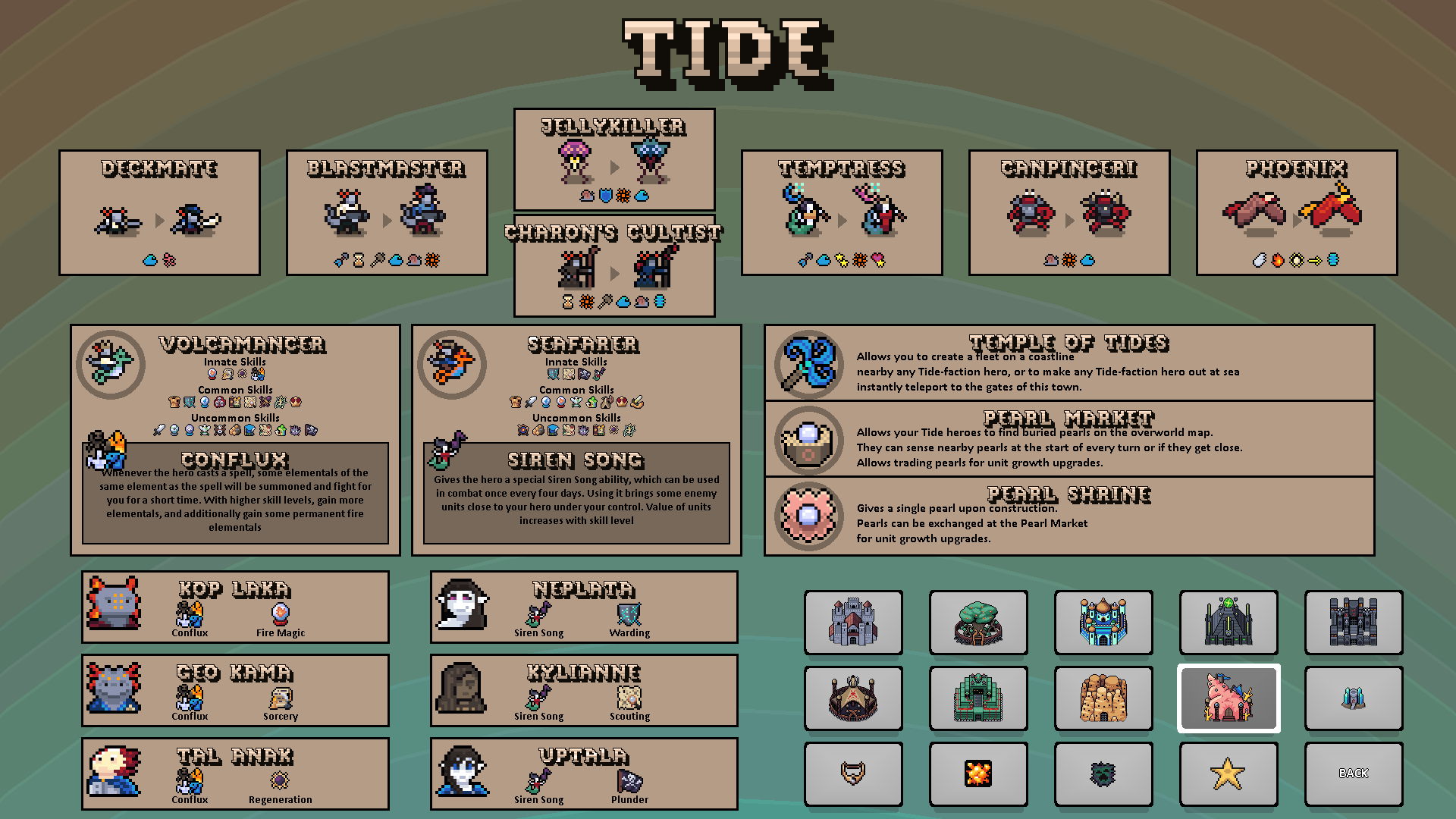 The 9th faction is here: Tide. You might've seen them roam the seas as pirates - but they're best known as the Islanders or the Lotlians. Apart from those few who seek adventures on the high seas, most Lotlians keep to their traditional island towns, reveling in their communion with the elements of water and fire. It is said that Lotlians are closely related to Lizardmen, and the two races have frequent cultural exchanges, though neither is able to convince their kin to switch religions.
THE MIGHT HEROES get the Siren Song skill, a versatile ability that both weakens the enemy, boosts your ranks and gives a macro advantage.
THE MAGIC HEROES get Conflux, a passive ability that boosts the power of your spells by creating temporary elementals - or permanent ones at higher levels.
THE TEMPLE OF TIDES allows Tide heroes to move from shore to sea and back again in a flexible manner - and to defend their towns easily no matter how far away their hero is out at sea.
THE PEARL MARKET AND PEARL SHRINE are linked to a special pearl-finding mechanic only for Tide heroes. They're scattered around the map like other buried treasure. Each turn before your heroes move, they might be able to sense a nearby pearl (see the purple pearl pointer below)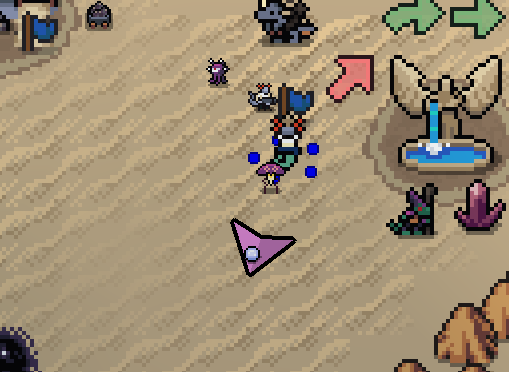 Last week, I showed off the Node Map Editor. Joining it, this week I'm releasing the Tile Map Editor which also is a tool for creating custom maps. The two work well together - you can design the large-scale outline in the node-map editor, generate the map, and then edit the map in the tile map editor.
The tile map editor has the same format as most other common map editors and will feel quite at home to most. It's still being worked on. The point of both of these editors is that I need them to create a campaign for Hero's Hour. As I start the campaign development, the editors will be built out with whatever features still are missing. Such as map events, only the framework of which are implemented right now. It'll come. It'll come.
But that's also to say that the map editors are a bit clunky, since they're essentially a development tool that I'm sharing because I can. Use with caution! Hehe.
If you want to share custom maps with others, you can find your saved maps in C:/users/[username]/appdata/local/Hero's Hour/custom maps
So. What does v 1.2 contain?
Small map generation updates
Bug fixes
New faction
Node Map Editor
Tile Map Editor
6 custom maps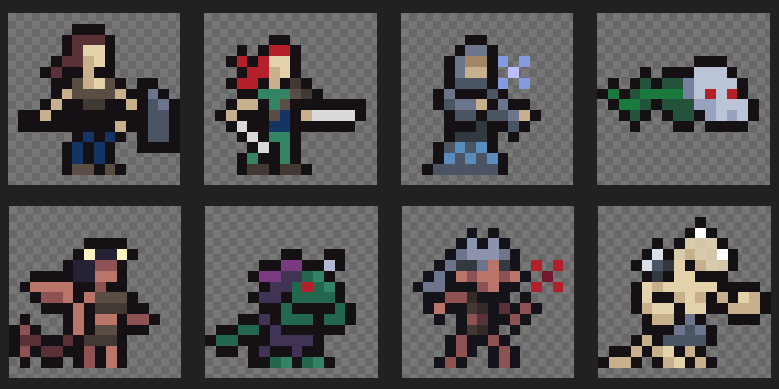 What will v 1.3 contain? I've already started work on making art for it. There will be a new unit for each faction, accessible as a mutually exclusive unit, meaning that you'll have to choose between one of the above beauties or one of the standard faction units. More choice = more strategy?
Sounds for combat???????? It's more likely than you think.
A campaign?????? Not sure about this one. It might wait until v 1.4. Who knows.
New hero abilities and hero skill trees? Hero specialties? This was the original main planned feature of v 1.3. There's a lot of other stuff on the table. I'll have to experiment and find out what works and what doesn't.
A dwarven faction? I mean. The sky's the limit.
But let's not talk about the future. Let's talk about the past for a minute.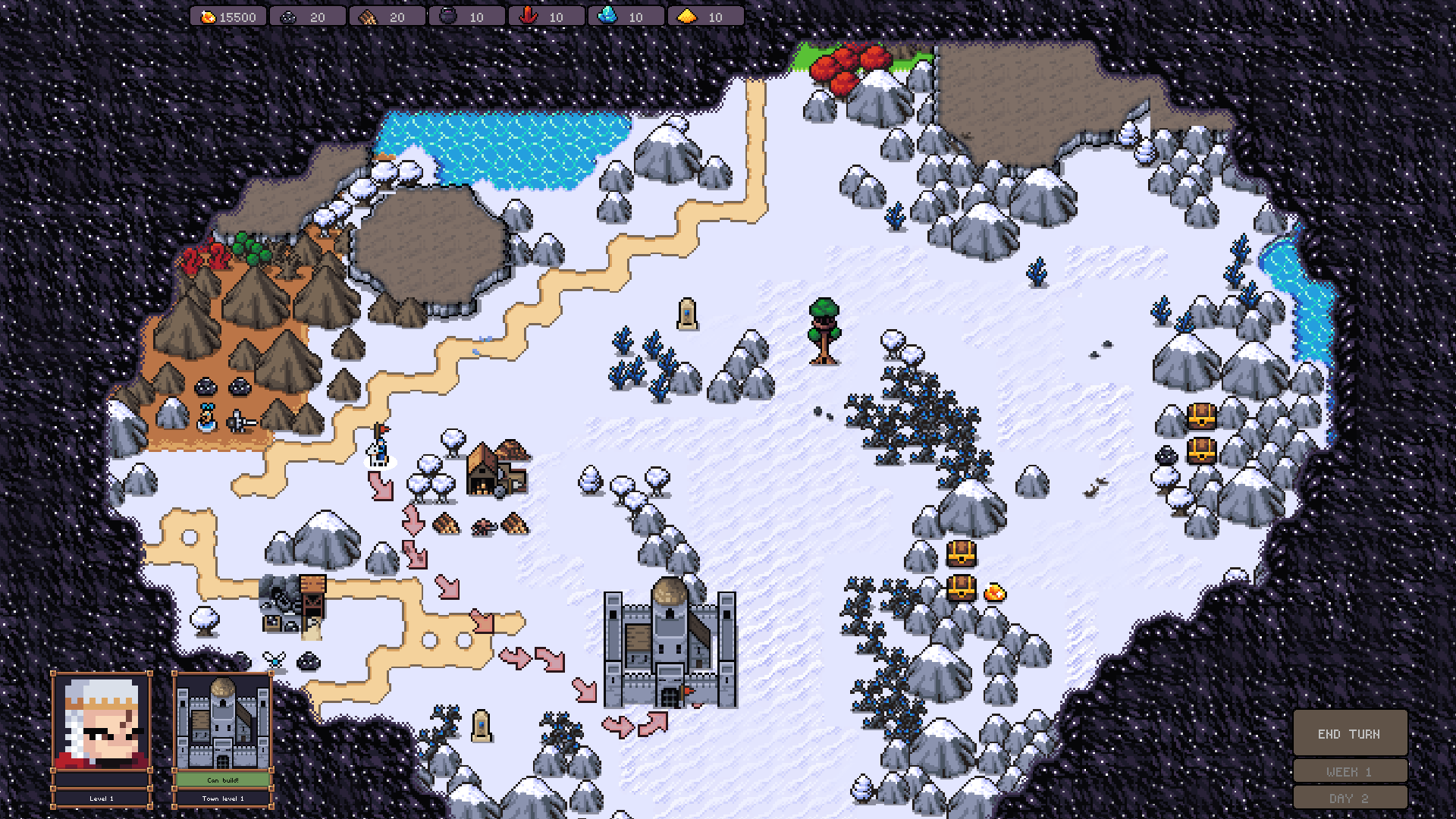 Six months ago, I uploaded the first build of Hero's Hour to itch.io. It looked something like the above. Wow. A lot has happened since then. I wanted to take you on a trip down memory lane and lay out the main features of the updates so far:
v 0.1: Base game release. You can actually try this version - it's linked on the main page.
v 0.2:

Elementals
Summoning spells + summoning skill,
Enclave units (not playable)
Regiments moving without heroes
Dwellings

v 0.3:

Town perks + new town sprites
First aid tent + ballista
First seven adventure buildings
Tooltips for buildings

Pausing battle while casting spells

v 0.33

Heroes on the battlefield
First implementation of Combat Orders - drop a banner, and units move towards it
Mouse cursor

v 0.35

Royalty and Combat skills
70 new artifacts + artifact sets
Music and Sound effects

v 0.4

Position units before battle
Arrow-based Combat Orders

v 0.5

New map generation + more than just one map

prior to this, all games were played on a map similar to Cornflower

Obelisks
Neutral towns
Gryphons become tier 7 creature

v 0.6

Sieges
Fleeing from combat
Enemies also flee, meaning you don't have to kill every single enemy creature, speeding up the game significantly
15 more adventure buildings
More artifact sets and more artifacts for those sets
First version of Reserve System

v 0.7

Minecarts moving from mines
Enemy heroes casting spells
Town UI improved (six-buildings layout)
Bonfire

v 0.8

Identity update - until then, all factions were basically identical
Mutually exclusive unit sets
Unique town building per faction
Gems were removed from the game
UI scaling
Enclave becomes playable
Hero start skills and faction specific skill learnsets

v 0.84

Midgame balancing (cheaper town income buildings)
Spanish translation starts
Difficulty settings
Necromancy rework

v 0.9

Duels mode (now called Skirmish)
Boss mobs
Enclave gets their faction mechanic
Micro armies graphical feature

v 0.94


New faction specific buildings
Alt-colours for all units
Caravan system
Decay (Soul Beacon) rework

v 0.96

Achievements
Horde (Banner of Champions) rework
New faction specific buildings
Treasure chest rework, Ruins, Lost Hero, Wish
Damaging spells rework (status effect, damage fall-off)
More to do in early game - easier mobs and scattered resources

v 0.97

New day counter
Tutorial
Flying units grab enemies
Units that cast spells
Heroes can make camp
Roaming armies

v 0.99

16 hero skills - faction specific hero skills
Guardposts
AI updates

v 0.995

Hotseat local multiplayer

v 1

So much polish
Lament faction goes live

v 1.1

More buildings
Seafaring
Adventure building UI update
New units

v 1.2

New faction
Two map editors
Custom maps

And that's that.
I plan to be finished with Hero's Hour within the next half a year. Luckily, you can see just how much has happened during this first half a year.

That's it for now. See you in a couple of days for some bug fixes.
A tired but proud ThingOnItsOwn

Files
Hero's Hour - Tides of Challenge update (v 1.2.0 free)
35 MB
Aug 07, 2021
Hero's Hour - Tides of Challenge update (v1.2.0)
35 MB
Aug 07, 2021
How "Hero's Hour" looked 6 months ago
2 MB
Aug 07, 2021